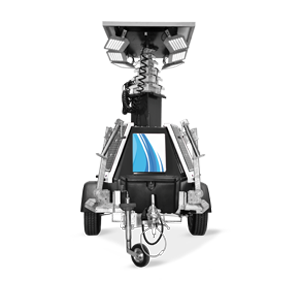 LED Light Tower Trailer (LLTT)
LED LIGHT TOWER: SOLAR POWERED CO2 NEUTRAL AND NOISELESS MOBILE LIGHTING TRAILER
A mobile light tower trailer (mobi-light, tower light) equipped with solar energy, LED lighting and batteries. This unique maintenance-free, high quality stand alone system is a concept that meets the challenge with diesel-guzzling light tower trailers.
TECHNICAL SPECIFICATIONS

The LED light tower trailer has the following specifications:
Up to 8 m height
Solar charging system
Automatic darkness sensor
Rotation lighting system
6 led high efficiency floodlights 27.600 lm
Electric telescope mast
Forklift tubes lateral
Control panel with battery level indicator
Aluminium body
Maintenance free battery pack
Lockable toolbox
Rotatable swivel jacks
Galvanised chassis
Parking brake
Forklift tubes longitudinal
Adjustable drawbar ball or eye
THE LED LIGHT TOWER TRAILER IS THE IDEAL SOLUTION FOR YOUR JOB!